ENQ provides you with a secure, stable platform for connectivity and integration. Any device, instrument and system capable of communicating electronically can be connected with ENQ.
Designed to run continuously without resets, its a perfect solution for healthcare and industrial integration. Support issues are rare – don't worry about the technology, concentrate on getting real work done.
You won't have to waste time learning a new tool either. Generic graphical interfaces are either too confusing or just don't work for configuring complex integration solutions. You tell us what you need, and we configure ENQ for you.
Yes, ENQ is not an off the shelf solution. It comes pre-configured to your door, ready to plug-in and do its job, and do it well.
An integration solution should be stable; always on, always working. ENQ just works.
Solve your device connectivity and integration problems.
Connect practically any device or system. Anything that has the capability to send and/or receive data electronically can be connected with ENQ. ENQ maintains a growing library of device drivers for communicating with a large selection of devices and systems. Protocols such as HL7, ASTM, HTTP/S, FTP, NFS are natively supported. Custom protocols over TCP/IP, wired and wireless, and RS-232 serial can be rapidly developed.
Translate between any message format. ENQ natively understands message formats such as HL7, ASTM, HPRIM, XML, and CSV. Like communication protocols, custom message formats are also understood, and the ones that aren't can be rapidly developed.
Route messages based on a highly configurable set of rules. Messages can be routed to a static list of recipients, or routed dynamically based on message content. Messages can be split into multiple messages, aggregated into a batch message, resequenced, and filtered.
Built upon stability – Debian Linux. Debian is built and tested for stability and security. ENQ uses Debian Linux as a base for a stable, secure platform for 24×7 operation, 365 days a year.
Monitor activity with a web interface. There's no need to wonder what's going on in the little black box. ENQ comes with a web interface showing detailed information of all data being sent and received.
How does ENQ work?
For medical devices, ENQ usually connects to the computer communicating directly with the medical device. It relays messages received and routes them accordingly to a lab information system, or other information system that can accept data electronically. Communication is bi-directional if the device supports it.
ENQ connecting to a single device:

ENQ connecting to multiple devices: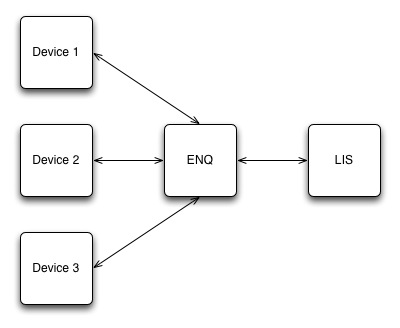 For other industries, ENQ can connect directly to the device if needed.
Interested in some of the unique problems that ENQ has solved? We have whitepapers with more detailed information.
Who is ENQ for?
ENQ has primarily been used by device vendors to facilitate communication with LIS systems in hospitals and laboratories throughout the world. Though, ENQ can be used anywhere, in any industry, where device and system integration is needed. It is available in two forms:
Hardware typically used for physical device connections: ENQ Appliance.
Software typically used for interfacing: ENQ Virtual Appliance.
ENQ Appliance is recommended when physical RS-232 connections are needed. Otherwise, ENQ Virtual Appliance is recommended, and is the preferred way of installing ENQ. Both versions are loaded with the same great software for solving complex integration challenges.
How much does ENQ cost?
ENQ is priced per interface. An interface is defined as any connection to an external entity. All other configuration (message translation, message routing, message storage) is included in the per-interface cost.
A support and maintenance contract is also recommended. The contract is also priced per-interface, in addition to a tiered-scale based on per-issue response time.
Please contact us for specific pricing details.
If a problem arises …
Support is offered with a yearly support and maintenance contract. The price of this contract is first dictated by the number of interfaces ENQ is configured for, and then by the availability / turn-around time needed for the solving of an issue.
Installation is easy. For ENQ Appliance, simply plug-in power, network, and serial connections, and begin sending ENQ messages. For ENQ Virtual Appliance, load the VMware image into your VMware environment and start it up. All ENQs are pre-configured for your organization's environment.
To support ENQ, a secure VPN connection is best. This allows us to immediately troubleshoot when problems arise, and install a fix to the problem as soon as possible. But, a VPN connection is not required. ENQ has the capability to gather all relevant information for troubleshooting into a single archived file that can be emailed to HealthBlocks. It also supports updates in the same manner.
Tell us all about your challenges!
If you have a connectivity or integration problem that needs a great solution, contact us! HealthBlocks and ENQ are a powerful combination for tackling the toughest connectivity and integration challenges.